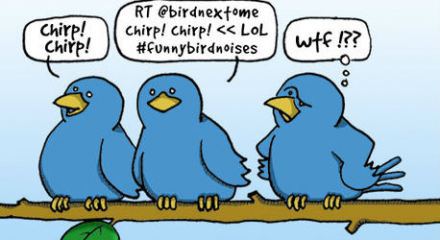 Shashi Tharoor had his foot in his mouth with a few tweets that did not go down well with his boss at the ministry of external affairs. Now, the frequency of his tweets has come down after an internal lesson given to him by the government. That's understandable because he is a politician, in the government and a public servant.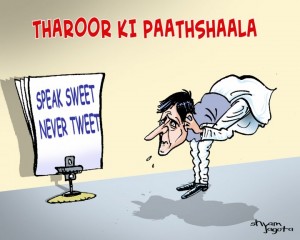 However, what happens to those media men forming public opinion and cry for justice for the common citizen who suddenly develop cold feet when it comes to matching their words, err … tweets/blog posts/forum discussions with what they actually carry out on TV?
Quite a few media personalities are on Twitter these days incessantly tweeting about their programmes and thoughts on current issues. Nothing wrong with that except when TV news channel editors do that, say something and then cannot match their thoughts up through their actions, like skirting a pertinent question that is different yet related to a current issue, things start getting shameful.
Unlike an instant-messenger (IM) message or a mobile text sent under a fit of emotion, or an email that you sent when you are drunk and later regretted, tweeting under emotion or tweeting something that you are not is far more dangerous. Popular and well-known personalities have numerous followers.
And, those numerous followers have the power of retweet to their followers and the followers have theirs. This makes the bad or self-flogging tweet reach a fantastic number of people in the twitterati.  And, as a result, damage control becomes impossible.
In the last three weeks or so, I had been following the tweets of some prominent newsmen, some not even in the list of those who I follow on Twitter. I did that because I always had a feeling that these people are prone to 'accidents' that may come in the way of having tweeted something that they cannot match up with the content their channels dish on the particular subject/topic.
I did not have to wait much longer to get the first such tweet, rather tweets from a very well-known former face of good journalism and now a very loud-speaking editor of a very well-known English news channel with a semi-diabolic agenda. That was when the Shah Rukh Khan (SRK)-Shiv Sena (Sena) drama started just before the release of SRK's latest flick My Name Is Khan (MNIK) turning the so-called news channels into movie channels playing the drama (where SRK was of course the hero and the SS a bunch of goons SRK had the role to vanquish) in loop ad nauseum.
This particular newsman not only kept tweeting on the issue and the programmes his channel was going to dish out on that, but kept skirting the bombardment of questions, especially from the active Kashmiri Pundits (KPs) living in exile as refugees in Delhi and some from other quarters whom he can conveniently term as right-wingers (and thus evade the issue). However, there was a question and a very pertinent one because it was on national unity and nation for all issue.
The bias of this man or his helplessness for the lack of control over expressing the content of his thoughts reached its nadir when he even kept questions on the issue 'under moderation/consideration' (whatever) in his much self-publicized (on his channel and Twitter) net meeting on his website till it was over. And, he is a much-liked journalist!
That was when I really began to feel sorry for him.
I must take this opportunity to applaud Vikram Chandra of NDTV of having the conscience to tweet his thoughts on the KP issue on the 20th anniversary of the KP exodus from the Valley when the media, including his own seemed to have imposed a self-censor on the event. NDTV later carried a programme on the issue, but it was too little, too late and looked as if it was a face-saving exercise for them. Vikram's active role in the NDTV Greenathon initiative made me watch the gig at Central Park at Connaught Place this evening because he is one of the few journalists I hold in high esteem.
Then there is this so-called journalist who had the naivety to send a legal notice to individual who had expressed his right to express his opinions thus hitting the proverbial fan with shit. However, that's not what I want to discuss here. This particular newsperson in concern had the audacity (or stupidity) to start a discussion on Facebook on the incident. Hundred of comments followed; after all, it involved a well-known TV face.
Given this person's bias (some don't hesitate to call this person a downright bigot), and the way this person has conducted on TV, it was almost predictable that those comments that did not subscribe to this person's views were summarily deleted. This coming from a self-styled journo is unacceptable. When journos start behaving like tools of despots where dissenting voices are stifled, especially when it is on a public forum and not a letter to the editor, they are really prostituting themselves and in turn the business that they are in.
I have no doubts in my mind that a Dan Rather moment is waiting to happen in India and one (or more) of these newsmen (who don't even come close to the stature of Dan Rather) will find themselves running to find a place to hide with the tail tucked between legs.
But, that will happen (the hiding part) only if there is still any shame left in them.
My advice to the newsmen, especially TV newsmen whom people see live every day is not to stay away from social media, but to show some guts and match your programmes with your thoughts that you so freely tweet or blog about. Unless that happens, you will never gain the kind of respect from India's large youth community who know you and are more active on online social media than you or perhaps even  me.
And, social media is for those who have the guts, guts to take criticism and even to apologize. And, for those media men with hidden agendas, stay away from social media. You will expose your bigotry even more.
Tharoor cartoon: Published with explicit consent of my friend Shyam Jagota, the cartoonist.